Marketing Dollars: Saving Lives?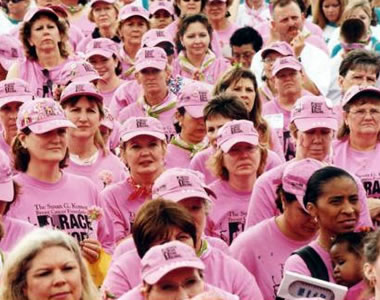 In last week's post, we raised the question of the ethics of pharmaceutical companies "educating consumers" about a particular disease for the purpose of selling and profiting from its treatment. Our perspective highlights the responsibility marketers have to ensure that they are not engaging in questionable practices that may damage consumers' health.
There is another group of marketers that has been extremely successful, but in this case it actually helps people: the marketing teams at various nonprofits around the world. Suzi Sosa brought up some great questions about what marketers can accomplish in the nonprofit and public health education field. She asks: "With the primacy of social impact (and public good) shared among us, do we therefore have a responsibility to work collectively to maximize public good?"
Of course, there is no right answer to her questions. Her article brought up the fact that heard disease is the #1 killer of women, even though many people think it is breast cancer. The Red Dress Campaign, or "Go Red for Women," created to fight women's heart disease, offers advice on preventing heart disease that involves a lifetime of healthy lifestyle choices, and that doesn't even take into account the role genetics plays in heart disease. One might argue that while individuals can't do as much to prevent breast cancer, the Susan G. Komen Foundation has potentially saved thousands of women through their early detection education. So which organization has the greatest impact? And which has the potential to save the most people?
I think the essential problem in asking whether or not we "have a responsibility to work collectively to maximize public good" is that it is impossible to exactly identify which measures maximize public good. Once you factor in the time, effort, and nature of the choices that each organization asks people to make, it is really like comparing apples and oranges. Not to mention the fact that ROI for these types of organizations can't be measured in dollars, but rather in improved overall health and quality of life.
The question of investment in these organizations aside, Sosa's article highlights another great point about non-profit marketing today: "many social entrepreneurs are embracing fully the dark arts of marketing, systematically crafting precise messages and constructing campaigns explicitly designed to foster long-term emotional hooks." I would point out not only the Susan G. Komen Foundation (which has managed to bring brand awareness and integration to almost every consumer industry imaginable, from the NFL to yogurt to toilet paper), but a huge number of other organizations as well. The Heart Truth is featured on every Diet Coke product, the American Cancer Society launched their great "Official Sponsor of Birthdays" campaign, and as Sosa pointed out, charity: water promotes their "a little goes a long way" model to potential donors.
With so many great organizations out there, do you think there is a way to identify which is the most important? Which has the most impact? Beyond that, do you think it is the responsibility of marketers to ask that question?